What is Timed Auction Software?
Timed auction software allows you to run an 100% online auction without an auctioneer.
Online bidders will view and bid on your website. You will have a branded page configured with is lot descriptions , pictures of the lots, videos and PDF's.
Lots in a Timed Auction can be bid on for a defined countdown time period. At the end of this period, the bidder who has submitted the highest bid on a lot will be the winner, providing the bid exceeds the reserve price.
The beauty of Timed Auction Software is it is largely automated, set and forget. Meaning once you have set the timed online auction up, it will run itself. Allowing you to concentrate your energy on marketing the auction. Another advantage is timed auction software will allow you to scale your auction business beyond the physical constraints of a room, warehouse or region.
Timed Auctions feature many options included in your Webtron auction software package. Including lot bid extension (to prevent bid sniping) , lot staggering (to spread the closing of your lots over a greater time period to maximise prices) and outbid email alerts ( to ensure bidders are informed when they are outbid).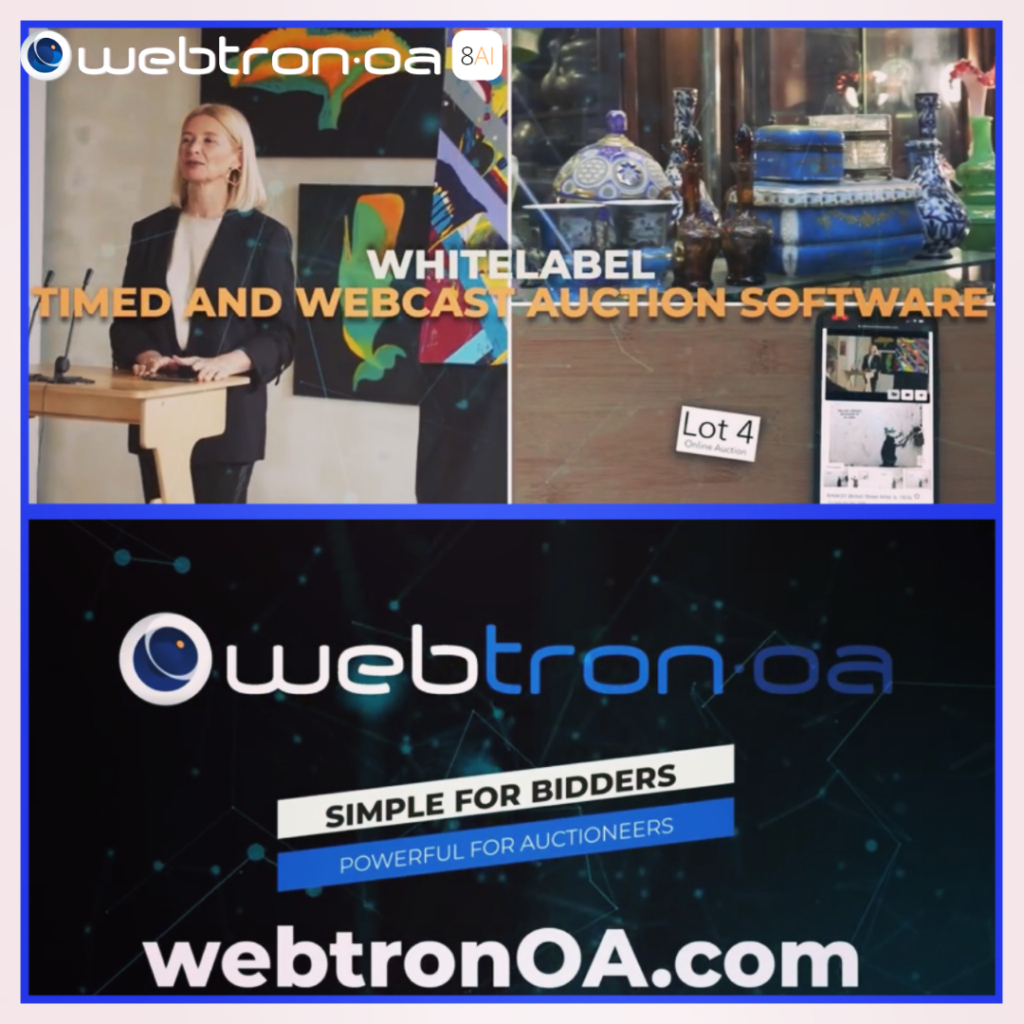 Let your website do the work for you!
Automating online sales and expanding your auction business online is simple with the help of our fantastic timed auction software.
We have more than 15 years of expertise offering online timed auction software to auctioneers all around the world. Online auctions are a terrific method to sell quickly and with little hassle.
Our software provides a wide range of features and functionalities to meet the needs of both your company and bidders. Timed auctions are easy to run and straightforward for bidders because they take a "set and forget" countdown approach to selling your assets.
Our system offers the functionality for you to build a fantastic timed online auction atmosphere, regardless of whether you're an experienced auctioneer or just getting your company off the ground.
⏱ Timed Online Auctions
+ 🎥 Webcast Auctions
☁️ All in one cloud based system
📈 Marketplace
👩‍💻 Sleek and modern user bidding interface
✅ Everything you need & will run from your own website
🏷 White Label Auction Software – 'value protect your bidders & IP' ( Not a group site
)
So modern works on all devices without frustrating bidders to download apps
🧑‍💻 Includes Setup, Training & Local Ongoing Support
🧾 Auction invoicing & reporting
🖥 Websites & marketing
😊 Simple for bidders and powerful for auctioneers
Below are online timed auction software features that come as standard:
✔︎ Fast Bulk image, Lot upload & Auction setup
✔︎ Brand New Webtron 7.0 sleek and modern bidder interface
✔︎ Add as many pictures, PDF's and videos per lot as you like
✔︎ Email outbid notifications
✔︎ Lot staggering
✔︎ Bidders can quickly search and smart filter lots by keyword or category
✔︎ Bid extension
✔︎ Built-in optional invoicing
✔︎ Run as many concurrent auctions as you like, as often as you like
✔︎ App Free bidding meaning it will work on all browsers , desktops , tablets and mobile
✔︎ Highly scalable solution and robust infrastructure
✔︎ Easy to use, stylish and intuitive bidder interface
✔︎ Auction setup, on going training and admin support
✔︎ White Label Auction Software and runs from your website
New Webtron version 8.0AI!
There has never been a better time to upgrade your online auction software to Webtron's 8.0AI newest auction software release.
Take your online auction business to the next level, and be one of the first to use artificial intelligence general auctioneers just like you.
It's 'Simple for bidders and powerful for auctioneers'.
Get in touch and arrange a demo for your business now!
FAQs
What is timed auction software?
Timed auction software is a type of software that facilitates auctions where bidders have a set amount of time to place their bids.
How does timed auction software work?
In timed auction software, auctions are typically held online, and bidders have a set amount of time to place their bids. The software manages the bidding process, including setting the auction duration, notifying bidders of new bids, and closing the auction when the time runs out.

When the auction begins, the starting price or minimum bid is set. They can then place their bids, which are recorded and displayed in real-time for all participants to see. Bidders can usually place their bids online or in-person, depending on the type of auction.

As the auction progresses, bidders are notified of new bids and can choose to increase their bids if they wish. The auction continues until the set time runs out, at which point the highest bidder is declared the winner.
What are the benefits of using timed auction software?
1. Increased reach and visibility: Timed auction software enables auctions to be conducted online, which means they can be accessed by anyone with an internet connection, regardless of their location. This can increase the number of bidders and potential buyers.

2. Convenience: Online auctions using timed auction software allow bidders to participate from the comfort of their own home or office, without the need to attend a physical auction in person.

3. Efficiency: The software automates the bidding process, which saves time and reduces the workload for auctioneers. This allows them to manage more auctions, increase their revenue, and streamline their operations.

4. Increased revenue: Online auctions using timed auction software can attract more bidders and buyers, resulting in increased competition for items and potentially higher final sale prices.

5. Flexibility: Timed auction software enables auctioneers to set the auction duration, start time, and end time according to their preferences, giving them greater flexibility in managing their auctions.

6. Security: Timed auction software uses secure payment processing systems and other measures to protect against fraud and ensure that transactions are safe and secure.

7. Transparency: The software provides real-time bidding updates and transparency in the auction process, ensuring that buyers and sellers have access to all the information they need to make informed decisions.

8. Record keeping: The software generates reports and records to help auctioneers manage their auctions, keep track of their transactions, and maintain accurate records for tax and accounting purposes.
How is bidding managed with timed auction software?
1. Registration: Bidders must register for the auction before they can participate. They provide their contact information and payment details, which are used to verify their identity and facilitate payment processing.

2. Item listing: The items being auctioned are listed on the auction website with a starting price or minimum bid.

3. Bidding: Bidders can place their bids online during the auction period. The timed auction software manages the bidding process, including notifying bidders of new bids and updating the current bid amount in real-time. Bidders can choose to place a single bid or set a maximum bid amount, which the software will automatically increase as needed until the maximum bid is reached or exceeded.

4. Pre-bidding: timed auction software provides the option for pre-bidding where bidders can place bids on the auction before the start date.

5. Auto-extend feature: Timed auction software may include an auto-extend feature, which extends the auction duration if a bid is placed in the final minutes of the auction period. This prevents last-minute bidding wars and gives bidders a fair chance to place their bids.


Get in touch and arrange a demo for your business.